Experience time in a whole new way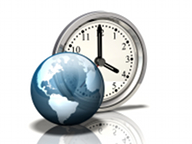 Welcome to SeasonClock, the first clock to run on Seasonal Hours, which vary from time to time and place to place, depending on the number of hours of daylight in the day.
For much of our lives, it is helpful to see the passage of time as a constant heartbeat, against which we can make scientific measurements or schedule appointments. In this conception, 1 hour is roughly 1/24th of the time it takes the earth to rotate on its axis.
There are times, however, when the passage of time is not regular. Daylight hours on a long summer day seem to stretch into the evening, and long winter nights can cause sadness and even depression. If you are hiking outdoors, it matters not a bit that it is "5:37PM" -- what is important is how much daylight is left before you need to find cover for the night. If you are making any plans that are tied to sunlight hours, it helps to think of time in terms of relative amounts of daylight, rather than as an absolute quantity.
How it works
On SeasonClock, sunrise is fixed by convention as "6:00 sAM", where "s" stands for seasonal time, to differentiate from the "real" 6:00AM. Sunset is fixed by convention as "6:00 sPM". The real time between sunrise and sunset (which is >12 hours in the summer and <12 hours in the winter) is split into 12 equal parts, called "seasonal hours".
On this clock, the sun at 12:00 sPM is always exactly halfway across the sky, and at the equator you would have no shadow. At 12:00 sAM the night is exactly half finished.
Watch the seconds go by faster during winter days, as the clock races to cover 12 seasonal hours between sunrise and sunset. During the summer, watch time go by slowly, as the minutes stretch out to cover the longer days. Always know exactly when the sun will rise and set, anywhere and anytime.